Dental Implants in Manteca, CA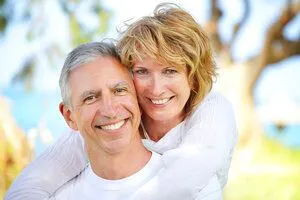 Dental Implants - The Next Best Thing to the Real Thing
Traditional tooth replacement methods like dentures and crowns and bridges do a fine job in repairing both the look and function of a damaged smile. Depending on the location, missing teeth can affect everything from our ability to eat, our speech, and even the health of the bone tissue in the gum, and the stability of the surrounding teeth. A denture or crown replaces the bottom half of the tooth, which is obviously very important. But dental implants go a step further, and replace the root of the missing tooth as well, making it the most permanent of the options currently available.
How do Dental Implants Work?
The implant consists of a cone shaped titanium screw that replaces the root of the missing tooth. Once the implant has fused with the surrounding bone in the gum, the crown of the tooth is attached to the implant with an abutment, permanently securing the new tooth in place. Implants can be used to replace a single tooth or several. Once it has healed, the implants do not have to be removed for maintenance or care and are generally as stable and secure as a natural tooth.
To learn if you are a good candidate for dental implants, contact the office of Vimala D. Vontela, DDS at (209) 823-7655 to schedule a consultation in Manteca, CA today!